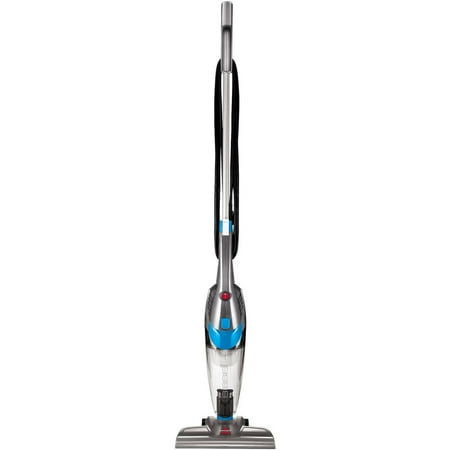 This Bissell 3-in-1 Lightweight Corded Stick Vacuum Variants offers users a fresh and reliable option for cleaning floors as needed. It can be used on carpet, area rugs and hard floors to keep dust, dirt and debris at bay. This lightweight stick vacuum has a quick-release handle that can be removed while keeping the foot attached for convenient stair cleaning. Then, by removing both the handle and the foot, it can be used as a hand vacuum on countertops or upholstery. This Bissell stick vacuum is available in several colors, ensuring a trendy and functional look for homes. It has a convenient wrap around cord that makes it simple to put away when not in use. This vacuum features a lightweight construction so it is easy to move around the floors. The Bissell 3-in-1 Lightweight Corded Stick Vacuum Variants has a dirt cup that can be removed for smooth clean up after vacuuming..
For use on carpet, bare floors, stairs and upholstery
Effective and convenient cleaning
Quick release handle, converts to a hand vacuum
Lightweight stick vacuum has easy-wrap cord storage15' power cord
Easy to empty dirt cup
Weighs less than 4 lbs
Available in blue, gray, mint and purple
Customer Reviews
Perfect for quickly cleaning every day
I share a bathroom with my cat, and despite having a covered little box, she still manages to kick litter everywhere. I needed a small, cheap vac I could keep in the bath to sweep up her daily litter mess. This is perfect! Barely takes up any space, looks sleek, and sucks up all the crunchy litter! It even does a good job on the bath rugs.Robin
Amazing Little Vacuum!!!
Awesome Little Vacuum. This vacuum is a hard worker. It cleans my carpet, my laminate, bathroom floor, does great on the rugs without sucking them up in the vacuum. I am amazed at how much dirt and dust and hair it picks up daily. I even used it on the spider webs on ceiling cause it's so light weight. I ordered another filter for it because I want to keep it working at its best. I'm so happy with my purchase. Yeah Bissell!! Another great product!!!!ASGS
So convenient
Bought one about 6 months ago for quick cleanups and love it. Runs like a charm and I use it just about every day. Very lightweight, powerful for it's size, and it's easy to clean the filter which I love! Love it so much that I bought another one.
You may also be interested in