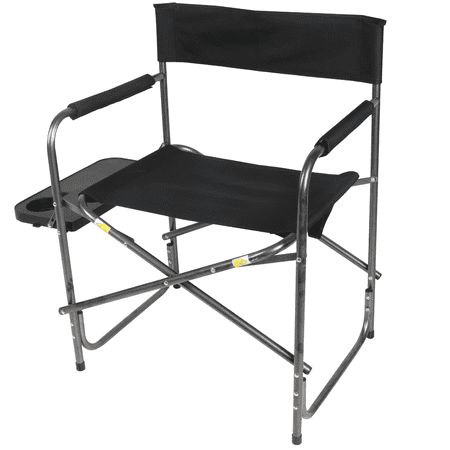 Direct yourself into the delightful seat of this Ozark Trail Director's Chair with Side Table. Comfort and ease of setup make this take anywhere chair as convenient as it is stylish. At only about 8 pounds, this foldable steel frame chair with 600D polyester seat keeps you comfortable at the campground or right in your backyard and holds up to 400 lbs. Use the side table to hold your magazine, paper, or drink. And for easy moving, it comes with a carry handle already attached. Relax in comfort and style on all of your adventures with the Ozark Trail Director's Chair with Side Table.
Customer Reviews
great chairs, great price!
I love these chairs. We use them daily out back. I have paid twice as much for this style so really appreciate the bargain these are. Would recommend and would buy again!lcgal
Comfy Portable Light Chair
We have been looking for chairs that are comfortable have arms to relax in. The most important criteria was it had to be light. The ones we have are so heavy, when take to festivals too heavy to carry. Plus, it takes a fairly good weight. We love the little side table with the drink holder. And they are super comfortable.
excellent chair for larger people
My husband is oversized( 366 pounds) and this chair is perfect for him !! It is sturdy and easy for him to get up out of while still being comfortable. We loved it so much that we ordered a second one. I can not think of anything negative at all to say because everything about this chair is excellent. We both highly recommend it !steveandmissy
You may also be interested in