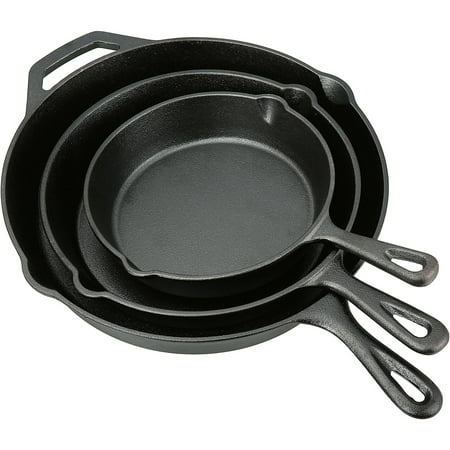 The Ozark Trail 3 Piece Cast Iron Skillet Set is made of durable cast iron that will last for generations. Bake, broil, fry & stew your favorite meal, enjoying a unique and hearty flavor. These skillets feature an easy pour lip on the side and a loop on the handle, making them easy to hang up on a hook after use. A true space saver! All cookware pieces are pre-seasoned with natural plant oil for a superior cooking surface. With the Ozark Trail 3 Piece Cast Iron Skillet Set, you will have the versatility to create any meal for any size group.
Customer Reviews
best pans in town
I got the Ozark trail Iron pans and they are perfect in every way. food cooks even . I love my pans and I recommend you try them too.Bill
My Forever Pans.
I love these pans, I grew up using cast iron everything in the kitchen. This is not my only set, I had to order more. I just love the set! Cast iron is very easy to use, to wash and to take care of.SHELLLS
Great Deal on a Quality Product
Wow What a great deal. I cannot believe I purchased all three of these skillets for the cost of one of the name brand skillets. I was kind of hesitant when I first seen this deal; however, after looking at the cast iron skillets in the store I could tell these were made of quality. These will last the next hundred years beyond a doubt. They are heavy duty cast iron in the 8, 10, and 12 inch skillet. I have used the ten inch skillet about 5 times in the past week and the skillet makes the food taste excellent. Just make sure you pick up some vegetable oil and bake the pans for forty five minutes at 350 degrees to give the pan the non stick coating and flavoring of the pan. This deal was too good to pass up. I actually have one 12 inch cast iron from a major company I paid $25 for alone and when I seen this deal I had to purchase these. I am so happy with my new purchase. Now I just have buy some more food to cook in them.One thing that is great about owning a cast iron skillet is you are always looking for new recipes because it makes you want to cook because it smells so good when you are cooking. Your also saving money by not eating at McDonald's as well as eating healthier.FordMechanic83
Love it!!! Great quality, great price!
I have always wanted my own cast iron skillet and when I came across these I had to buy them. I was amazed at the price! All three sizes of cast iron skillets for only $20. What a deal!! I have used the big one a few times now and the people have raved about the dishes I made in it. So glad I found this product at such a great price!!! What a difference a pan makes!
Does everything a higher-priced set could do!
We have only used the 1O" so far, but it is a good weight and makes outstanding steaks! I like the high temps that cast iron allows and the fact that I can go directly from the stove top to the oven without worrying whether the handle will melt!

Quality seems comparable with the higher priced name brands, so I would no doubt recommend this set.Guindalf
Heavy. Well cast. But poorly seasoned and rusty
On the good side: These appear to be good quality cast iron. I bought them for camping, which won't begin for a few mort months. I have used them in the house on a smooth top electric range and they conducted heat well. On the bad side: They claim to be seasoned - oil baked in which allows cast iron to be very non-stick... but they are very lacking in that category. Also, I did a "buy online, pick up in store" and the pans I got were rusty... I had to spend 15 minutes with steel wool, then re-season each pan. If you are willing to re-season these yourself, you will be happy with them. If you want easy, buy a Lodge. I am OK with the seasoning, but not happy with getting rusty pans.biglenr
Great skillet set!
I am loving these! A little more grit than the really old cast iron, but not nearly as rough as name-brands! I have cooked both meat and veggies in them so far and they are fantastic!
Definitely seasoned (and I was thankful not with lard like some are!), but I did go ahead and lather them up with coconut oil and bake them on 500 to get them really well seasoned.
Fantastic value...can't beat $20! The large pan has a little handle too which is fantastic!!!!GeneralsGirl08
Not a Happy Customer!
These pans are awful! I threw away my old skillets thinking I was getting something better, very Disappointing!
Some of the foods I've cooked stuck to the skillet. The small one has a crack in it right next to the handle and after washing they've started to rust. So no I wouldn't recommend these at all..Chan
DO NOT BUY!
I received these as a gift for christmas and the small one has holes in the side of the pan you can see through.. I pre seasoned my pans, dry them, season them after every use, and NEVER wash them with soap. The big one is rusty and it's coating is coming off. I will be returning these. I LOVE cast iron pans, but I can't use these.Kristen
Bad set
Brought this set last month, barely use it for omelettes in the morning and now it's all rusted!! UnbelievableVirgo
You may also be interested in