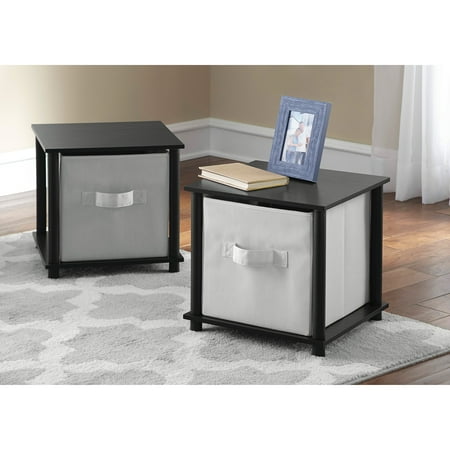 Mainstays No Tools Single Cube Storage Side Tables provide a place in your living room or bedroom to hold various items and accessories. The flat surface on top can hold a lamp, clock or other appliance or decoration, while the area underneath comes in handy for holding electronics, cloth napkins and more. Assembly of this set of 2 self storage tables is simple and easy, requiring no tools.
Mainstays No Tools Single Cube Storage Shelf Side Tables, Set of 2:
Holds storage cubes
No tools required for assembly
Storage cubes tables dimensions: 16.46"L x 15.55"W x 15.67"H
Customer Reviews
So happy I could burst!
I wasn't expecting great. $15 for 2 tables that require no tools to assemble? I was prepared for what I paid for. Well.. I am shocked. These are an EXCELLENT value. 2 tables made with particle board but a very heavy duty type not flimsy. Screw the legs into the top, place the bottom over the other end of the leg posts, secure by screwing in the feet. Done in 5 minutes. VERY sturdy. So cute in white! You can even stack them on top of each other! They are not really meant to be end tables so the people that are upset about the size should have just bought end tables not storage shelves. I needed a small table to place a humidifier and one for a Himalayan salt lamp. The storage was a bonus. I bought the Better Homes and Gardens 15" bins in gray with white, 2/$6.97 . They fit perfect and are well made. They are also HUGE! I was so happy with my purchase I had to tell someone.. LOL I have since purchased the 4 slot cube storage with an additional 6 bins. I'm going to use 2 on the top to make it a 6 cube storage. I have gone storage crazy and Walmart made it easy and very affordable. Less than $85 for 2 tables, a 4 slot storage and 8 fabric bins! WOOT!PRinNH
Nifty product
The storage drawers are not included....there needs to be a disclaimer on the ad.Glowing
Cute Tables and No tools or a Man to put together.
Tables were a breeze to put together..no man or instructions needed...lol...they are cute, and stable, match anything in my living room. I am looking for the cubicles to put inside. I love them. May get a couple more.SweetyBear2008
Nice Cheap End Tables
As the picture shows, these do well as end tables. EZ to set up, lightweight.
Saw them on sale in Walmart for $11.
Biggest drawback.. sharp corners.HotSpotRefugee
If you wanna be cheap yet classy choose these!
Chances are if you are even looking for two side tables for less than 20 bucks...you don't care about the quality...lol

However, these two tables do the job. Don't try to sit 40 lbs on them of course, that's common sense. But they look great, and take all of 2 minutes to put both together.

Overall , I'm satisfied. Wanted something cheap and nice looking, got both.
You may also be interested in