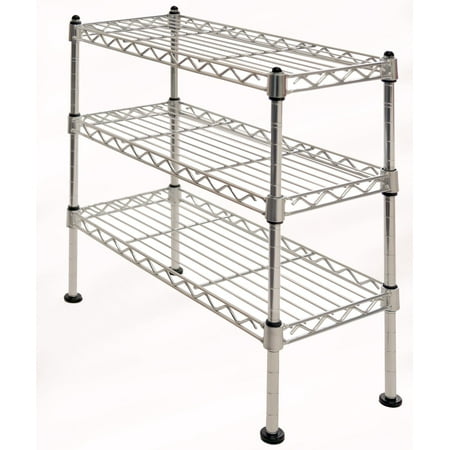 Enhance the storage space in your home, garage or shop with this Seville Classics Mini Three-Tier Shelf Organizer. This item will you organize various items without needing to install a new cabinet or taking up too much space on your counters. This kitchen shelf organizer is adjustable at 1" intervals and features level feet with a protective pad included, so you can customize the shelves to fit your needs. And because it is easy to assemble, you can put it together effortlessly and use it right away. No tools are needed to piece it together. This steel wire shelf is a practical and stylish way to get your things in order and easily access them whenever you need.
Simple three-level organizer for small spaces
Industrial-strength steel wire construction for multipurpose storage
Zinc plating provides full corrosion resistance in dry environments
Shelves are height-adjustable by 1-inch increments; no tools required
Adjustable padded leveling feet
Product Type Cabinet Organizer
Maximum Load Capacity 45 lb
Number of Tiers 3
Placement Counter, Cabinet
Application/Usage Kitchen, Bathroom, Laundry Room, Office
Material Zinc Plated Steel
Assembly Required Yes
Customer Reviews
Perfect toasting station!
This tiny shelve is great on my kitchen counter. On the lower shelve, my small toaster oven fits perfect, the mid-shelve my bread box for bagels and uptop my toasting gagets and loaf of bread sit there. Shipping was prompted. Everything is compacted and organized. Super but mighty little item.CampFarm
Sturdy shelving- great value!
Used this product to add shelving to wasted space in a small pantry. I am very pleased with the results. The shelving is sturdier than I expected for the price and it's not bad to look at!Smash52
Great sturdy small racks
I needed some relatively narrow shelves depth-wise to fit along the the bottom of a stairwell for storing some home-brewed beer. While I do wish Seville had some shelving a little bit larger, I cannot hold that against the two sets I bought. These mini shelves worked out quite well. They are quite sturdy and with a little pre-planning pretty customizable (see picture, arranged a row of shelves incorporating a 6" step). I've ordered another pair for additional low-profile storage.ClutchRocks
Exactly what I was looking for!
I needed a very small shelf to fit in a very small tight spot and this fits exactly the dimensions I needed. It is very well made. I added shelf liners (I cut up a plastic placemat to fit) so my smaller items would not fall through. This replaced a table that was too large and held less items. I am thrilled and love it. Sometimes it's the small things that can make your day:)precisebuyer
Good buy
Love the shelf perfect for what I needed it for my business.Heavenlytreats661
Great little Shelf
Just what I needed. I use the shelves for a display to hold my candles and other products I sell at farmers markets. They are sturdy, easy to put together and take apart. The price was very affordable....I would purchase again in the future.absophie
Great plant rack
It is just perfect size. I wanted it to fit on the desktop to keep my violets from taking over. It looks very nice with its chrome finish. And was a snap to put together.JCarole
A great sturdy shelf for extra storage.
It took me about 5 minutes to completely assemble this shelf. It went together quickly and tightly. I am using the shelf on my desk to hold my battery backup, my Ooma telo receiver, a netgear wireless router, a Dymo 450 Postage printer and a Dymo postage scale. The shelf is very sturdy and handles all the weight I have put on it without sagging or wobbling.RetUSMC
great for small kitchens
brought the wrong size. so many could not figure which was tallest. have to order another one, gave this one to a neighbor.ohiobabies
Missing/ damaged parts
It looks to be a nice shelving unit but two of the poles are bent and there are no sleeves in the package. I contacted Seville (the manufacturer) who told me that they they do not provide the parts I need. What does that mean?? Allegedly, they are the manufacturer. Now I am not sure how to remedy this problem. If Walmart can't get me the parts, I will have to ship this back to Walmart.

This is the first time I have ever bought anything at Walmart and it will likely be my last.
You may also be interested in